February 22, 2023
Good Afternoon Warren Students, Families, and Staff,
We have several important announcements for the week of February 22nd.
I hope all of our students had a nice long weekend and a successful eLearning day yesterday. Just a reminder that students have 5 days to submit their eLearning assignments or no later than Tuesday, February 28th.
MSD Warren Township will be hosting its annual Teacher Recruitment Fair on Tuesday, March 7th. If you are interested or know someone who might be interested, please visit our website for more information. There will be an opportunity to participate either in person or virtually.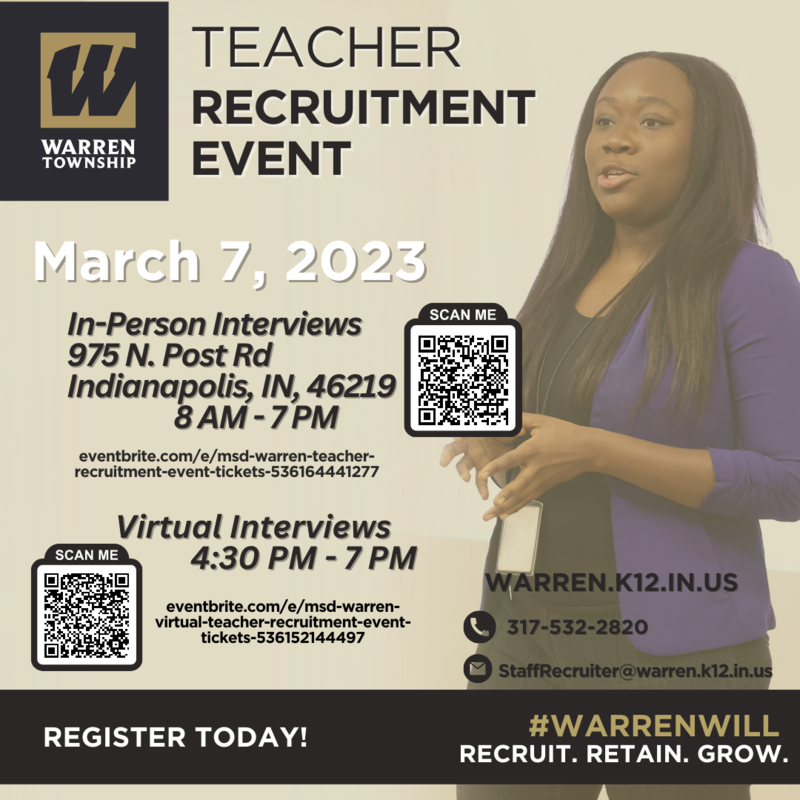 MSD Warren Township, in collaboration with community partners, will be hosting its second school safety and security community forum on Monday, March 13th. The forum will be held at Creston Intermediate Middle School from 6:00 - 7:30. We invite all Warren families, staff, and community members to attend.

Kindergarten Kick-Off Registration for the 2023-2024 school year will be held on Monday, March 20th, from 6:00-8:00 at each of our 9 Warren elementary schools. This kick-off event provides our newest students and families the opportunity to pre-register, tour their school, meet their teachers, and ask questions about the upcoming school year.
Next Wednesday, March 1st, ALL Warren Central High School 11th-grade students will be taking the required SAT. 11th graders testing that day will report to school at the regular 7:15 start time and will be dismissed at 1:45 on this day. Students in Grades 9, 10, and 12 will not report to school on March 1st and instead will participate in an asynchronous eLearning day. Assignments for students will be provided through Canvas. Additional information will be shared over the next couple of days.
Financial aid professionals will be volunteering at 37 sites across Indiana to help college-bound students and their families open the door to financial aid during College Goal Sunday on Sunday, February 26, at 2 p.m. local time. Local sites include:
Arsenal Technical High School (1500 E Michigan St, Indianapolis - Computer Lab)
Beech Grove High School (5330 Hornet Ave, Beech Grove)
George Washington Community High School (2215 W Washington St, Indianapolis - Door #22)
Ivy Tech Community College (50 W Fall Creek Parkway North Drive, Indianapolis - North Meridian Center)
Lawrence North High School (7802 Hague Road, Indianapolis)
Free Application for Financial Student Aid (FAFSA) is required for students to be considered for federal and state grants, scholarships, and federal student loans at most colleges, universities, and vocational/technical schools nationwide. The FAFSA must be filed by the state of Indiana's priority deadline of Saturday, April 15, to guarantee state aid for those that qualify. For a checklist of items that will aid in filing the FAFSA, please visit www.collegegoalsunday.org. If you have additional questions, please contact your high school counselor.
On May 2nd, MSD Warren Township will be asking Warren Township voters to approve a $.30 cent operating levy referendum rate per $100 of net assessed value. If approved, this will provide the necessary funding to support the following District areas: Student and Staff Safety and Security, Teacher and Staff Retention, Student Transportation, Student Learning and College and Career Readiness Programs, and Student and Staff Technology. Please check out our District website linked here for more information.
Thank you for your continued support and investment in our students, staff, and schools.
Together…#WarrenWill grow our students!
Dr. Tim Hanson, Superintendent of Schools for MSD Warren Township