Good Afternoon Warren Students, Families, and Staff,
We have some important announcements for the week of January 19th.
Thursday, Jan. 20 is a food distribution day for all Warren students from 11 a.m. to 1 p.m. at the following locations: Creston, Raymond Park, Stonybrook, Renaissance, and Warren Central High School. Accommodations have been made so that families can participate at any of these locations. Thursday's distribution will consist of 1 breakfast and 2 lunch meals per student.
MSD Warren Township, in partnership with the Indiana Immunization Coalition, will be providing a clinic to accommodate the flu shot, immunizations required for school-age children, and the COVID vaccine for individuals 5 years and older on Tuesday, Feb. 8 at Moorhead Community Resource Center from 4-7 p.m. Families are encouraged to pre-register for this event. The registration link for the immunization clinic is patients.vaxcare.com/registration. After clicking on the link, enter the enrollment code, IN65942, and then select Warren Schools-2/8. Below are the required immunizations for school-age children.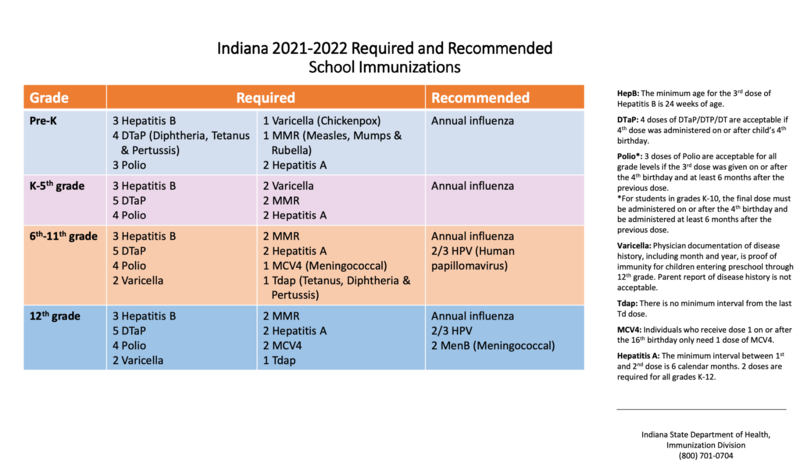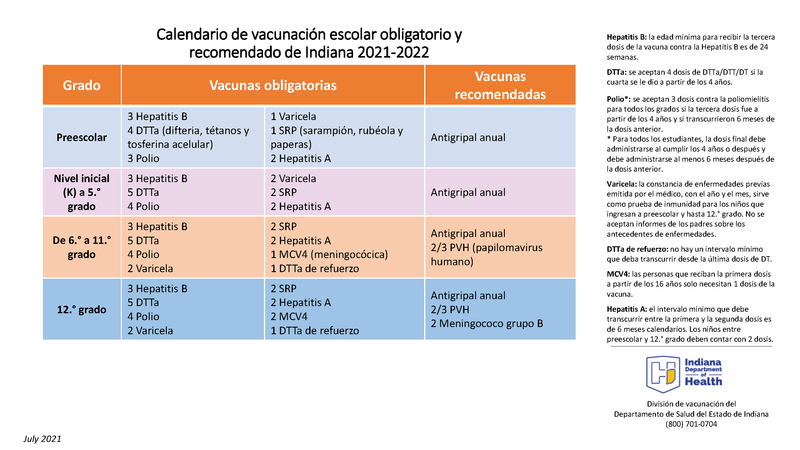 Beginning Jan. 18, every home in the U.S. is eligible to order 4 free at-home COVID-19 tests. The tests are completely free and tests should arrive within 1-2 weeks. Tests can be ordered by visiting COVIDtests.gov.
We are continuing to monitor our data and the impact that this latest surge is having on our schools and community. It will be our goal to have our students and staff return as soon as safely possible. I will be providing an updated message this Friday to communicate next steps for the week of Jan. 24-28.
I want to thank our staff for their efforts in pivoting to virtual learning this week and I want to thank our students for getting off to a great start this week with their level of engagement. Students, if you need any support whatsoever, please reach out to your teacher, counselor, or school administrator.
Thank you for your continued investment in Warren students, schools, and staff, and I hope you stay healthy and safe this week.